ABOUT THE PRINCIPAL
Mrs. Dolly Banerjee, a spirited and accomplished English Post Graduate from the prestigious University of Allahabad, popularly known as 'Oxford of the East', has been into education for more than two decades. She has rendered her teaching expertise for twenty long years and later served as a Vice Principal and Principal in reputed institutions of India.
Mrs. Banerjee is a thorough disciplinarian at heart and believes in honesty and hard work which lay the foundation for success of an individual. Having served as a coordinator of the CISCE board for many years, she has proved her expertise by being nominated as an 'Expert' for revision of the CISCE board Geography syllabus for secondary school (Class 10th).
She is an ardent lover of dance and music and has trained students for various dance performances which has brought laurels to her schools. Carrying forward her journey towards excellence, she has now joined DPS Silchar as the founder Principal with expectations to establish it as one of the best DPS schools pan India.
PRINCIPAL'S MESSAGE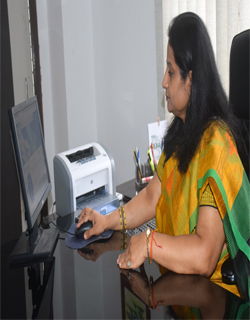 Welcome to the first academic session of DPS, Silchar!
In the words of Margaret Mead:
"Children must be taught how to think, not what to think ".

We at DPS Silchar are committed to provide a meaningful learning experience to our students, prepare them to take up challenges in life and develop in them the capacity to think in the right direction. Our aim is to instill curiosity and love for learning in every child to develop them into confident young individuals who can contribute in building an honest and healthy society. We at DPS Silchar believe that every child is endowed with immense potential. As educators we need to help them realize their true potential and channelize it in the right direction so that they grow up as productive members of the society.
We believe in a comprehensive learning system where physical, mental, spiritual, social and emotional growth of a child is taken care of. We are focused towards developing life skills in our students which will help them to handle challenges and overcome them with pride and perfection.
With strong determination and a heart full of hope, we take our journey towards excellence with expectations of cooperation and support from the entire fraternity.
Mrs Dolly Banerjee
Founder Principal